Hiyoshi Taisha Shrine is the main shrine of the Sanno Festival and has more than 3,800 branch shrines around the country. It is home to the guardian diety of the Tendai sect of ancient Kyoto. The vast temple grounds contain close to 40 shrines as well as the east and west halls, which have been designated as national historical landmarks and contain many cultural properties. The Sanno Festival, which takes place every April, is one of the three big festivals of Lake Biwa. The shrine is highly well known among residents of Shiga Prefecture for its changing autumn colors. Hiyoshi Taisha Shrine is considered vital in warding off evil spirits due to its monkey deity Masaru. Originally, many monkeys lived on Mt. Hiei, and it is believed that over time they became important symbols for warding off evil. The name "Masaru" comes from the Japanese phrase for expelling evil spirits, and the monkey itself is known for its good luck. Masaru offers protection and answers prayers of victory and success.
Address
Otsu Sakamoto 5-1-1
Access
■By train
20-minute walk from JR Hieizan-Sakamoto Station
or a 5-minute walk from Keihan Sakamoto Station
■By car
10-minute drive from the Kosai Road Shimosakamoto Interchange

Parking
50 spaces for normal-size vehicles
Contact
TEL:+81-77-578-0009

Business Hours
09:00 a.m. - 04:30 p.m.
Closed on
No holiday
Price
300 yen (270 yen for groups of more than 30 people)
URL
http://hiyoshitaisha.jp/
■Sanno Festival
April 12 (wed) – 14 (Fri), 2017
Standing alongside the Nagahama Hikiyama Festival and Otsu Festival as one of the three largest festivals of Lake Biwa. Hiyoshi Taisha Shrine is the head shrine of some 3,800 Sanno shrines across Japan, and this is its main festival. It is registered as one of Otsu City's Intangible Folk Cultural Properties.
The Sanno Festival is held for a month and a half beginning on the first of March, but the main festivities during this period are held over three days, from April 12th to the 14th.
On the 12th, two mikoshi (small, portable shrines) are carried down from Mt. Ushio (Mt. Hachioko) to Higashimotomiya Shrine, representing the marriage of two deities (the Ritual of the Horse).
On the 13th, the birth of a young prince is represented by the violent shaking of the shines in the Yomiya Otoshi Ritual.
On the 14th, seven mikoshi are placed upon a boat in the solemn and sometimes beautiful Awazu no Goku Ritual.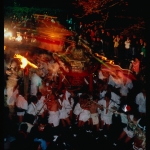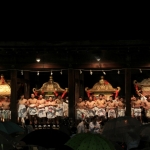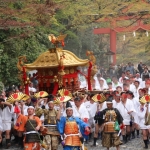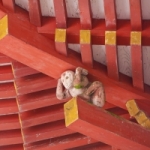 Masaru Monkey on the Roof of the Nishimoto Two-Storey Gate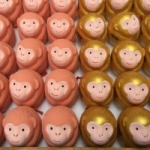 Masaru Monkey Diety Charms